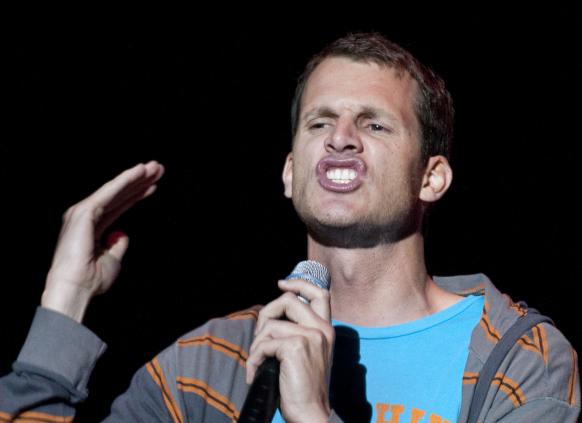 Oh wait, no he didn't. He told jokes, which is his job. Are you ever crappy at your job? Does the whole world have to know about it when you are? Do you have a thoughtless female screaming in your face while you're trying to work? Probably not.
The truth is that I was raped, but not by Daniel Tosh. And I wasn't just raped; I lost my virginity during my rape. I had gone to an all girls' boarding school, where rape victims were practically monthly speakers in a misguided attempt to scare the bejeezus out of us. I was the asshole who always thought, "I'd never let that happen to me; I'd kick the guy in the crotch." Well, I went to college in the age of roophies, and it turned out that my logic was useless. I was 17, a freshman at USC, and my rapist was a junior in the film school. He was a small, irritating guy (and at 5'7" a solid two inches shorter than I was). He was weak, a coward, so he chose the pharmaceutical sneak attack. I woke up the morning after in his dorm room just north of frat row (where a girl, in my opinion at the time, could actually expect to be raped), my clothes strewn around the room in a perfect circle. I was totally naked. I lay there, on the floor of this guy's living room, utterly vulnerable and alone. My attacker was not there. Even more shocking: His roommate, who had been home the night before, had stepped over me in order to leave that morning. I went to class and, long story short, I barfed when I saw my friend wearing a t-shirt that said, "Visualize whirled peas." I still did not know I had been roophied. It would take me revisiting the crime scene and confronting my attacker for him to admit what he had done. What still shocks me is that I did not have the strength at that time to tell authorities. I told my friends, secretly hoping that they would report the crime. But they did not. To this day, I live with the knowledge that the man who raped me may have done that to other women, simply because I was too much of a coward to report him. I live with that EVERY SINGLE DAY.
Here is a response I got to my last blog entry on the subject:
"Telling a (shitty) comedian you don't like their jokes means that you DESERVE TO BE RAPED. Just because you don't seem to be triggered doesn't mean other victims aren't (those who suffer PTSD - 30%). If you are more concerned with a comedian being able to insult a rape victim than a rapist, good job, that's exactly what Tosh was doing. There's a difference between using rape as a joke to insult the oppressor, unfortunately many unskilled comedians go after the oppressed."
To say that I do not have PTSD because I believe that comedy is comedy is short-sighted and ignorant. It took me ten years to even START to get over the damage that man did to me. And you know what I did during that decade? I wrote comedy. I learned to love the artform, not just as an escape but as a means of expressing my innermost hurt. At this point in my life, yes, I have more respect for the male comedian who can stand on stage and make a rape joke than I do for the woman who takes it upon herself to interrupt the comedian at work, ruin the night for everyone who paid to be in the audience, and speak on behalf of victims like me who, frankly, don't need some self-righteous, loudmouth bitch to stand up for us. This woman, by using rape victims as her excuse to heckle a professional and then write a crappy blog entry in the hopes of becoming famous, has done more to hurt women than anyone like Daniel Tosh could ever do. 
"Rape is horrible" is what the girl (whom I refuse to give the respect of a name) screamed at Daniel Tosh. Oh, is it horrible? Please, do tell me about it, lady. I want to hear YOUR story about how you one time read this book or saw this reality show or had this friend of a friend who was raped. Shut the fuck up. In my opinion, you're just as bad as a pro-lifer speaking on behalf of an unborn fetus. I'm glad that all this press has gotten you the notoriety that you so desperately sought, and I am honestly sorry that it has brought you legitimate death threats. But you know what? You had nothing to say. You admitted in your own account that, when pushed, you offered no retort and then sat there and enjoyed the rest of the show. You took Daniel Tosh's work from him and you stole a good night from everyone else. I hope you have learned your lesson that those who make dirty ideas into conversation should be commended for it, and those who attempt to squash free speech and have no respect for entertainers' work are only making rape and subjects like it greater taboos, giving them more power and more pain for those of us who actually have to live in their aftermath. 
I pray to god that nothing bad happens to the girl who brought all this on herself (see what I'm doing there?) by yelling, drawing attention and, worst of all, having nothing useful to say. I also pray that nothing bad happens to Tosh, and that Comedy Central does not fold to the pressures of rape advocates with no sense of humor. Without people like Daniel Tosh, I would not have been able to laugh my way through recovery. Without people like this heckler, I'm pretty sure I'd be OK.